A MOnSter Mystery, Solved
July 7, 2016
10:01 pm
MOnSter 6502
I brought up an additional MOnSter6502 board today. At first it failed my basic validation routines, tripping up on the LDA nn,Y instruction ($B9).
The bus diagnostic output showed that LDA nn,Y was trying to read nn+Y+1 instead of nn+Y (in my test, it accessed $0211 instead of $0210). The LEDs showed that the Y register contained the expected value, so I thought the ALU carry in signal may have been loading a '1' instead of a '0', thus causing the incremented value. I scoped it out and it was fine.
Then I noticed that LDA nn,X worked fine which is totally weird because those instructions are just about identical! So I physically inspected the Y register and saw this tomfoolery: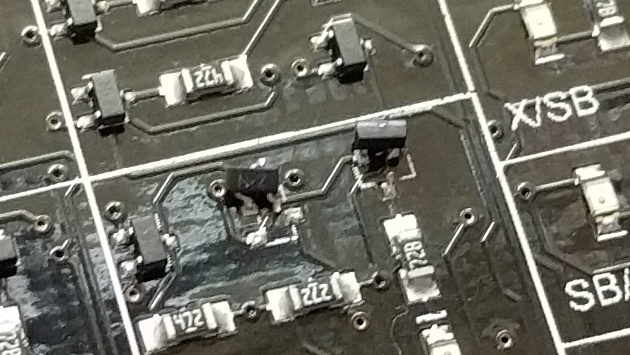 Those transistors are in bit zero of the Y register. The one on the left prevents anything but a '1' from being in the LSB. The one on the right was supposed to drive the LED on so that I could tell the bit was stuck, but it decided to cover for its dead buddy. I don't even know how this happened. It could have been shipping damage, or maybe I fat fingered a screwdriver.
After fixing it, the board worked fine. Two dead transistors and a lying LED. Gotta love transistor level debugging.